Tuning Rover engined TVRs
This is a basic guide to demonstrate the options, for tuning your Rover engined TVR. This quide is for 10 -40 Lb ft torque, we prefer to relate to torque rather than BHP, Torque relates to the actual turning power of the engine, If you are seeking 50bhp/ Lb ft torque increase, you should talk to an engine builder as the process will involve uprating heads cam and probably capacity.
Starting with the easiest solutions and best value upgrades
The first area to look at is filter and induction hose from filter to engine, the original foam filter is good but does need cleaning on a regular basis, say every 3000 miles, the K&N filter is nearly twice as expensive but doesn't need cleaning so often .
We recommend smooth bore induction hoses, we designed these originally for mainly cosmetic reasons but found during dyno testing that they were quite effective, the plenum elbow relieved around 2-5 lb ft and similar peak bhp, on a 500 engine we found that replacing the hose from the AFM to filter with a smooth bore relieved another 5-8 lb ft, on powerful engines we've seen more. A complete induction hose kit for a / Griffith/ Chimaera is £119 / £138 + vat  will increase output by 7+ lb ft
Trumpets, our superflare trumpets for all engines except 5.0L are effective and easy to fit, we would expect a gain of around 7-10 lb ft, we have seen more on 4.3s & 4.5s , self fit superflare kits are £195 +vat
So as you can see for around £375-£400 inc VAT you can achieve 14+ lb ft and at the same time increase peak power by 8-15 bhp, what's more these hoses improve the looks of the induction system.
Materials: trumpets are carbon fibre , we use pre-preg autoclaved carbon fibre , as used in F1 this is extremely durable, we know of trumpets that we fitted some 12 years ago showing no signs of deteriation, for the hoses we us EDPM black automotive high temp resistant rubber.
For the 500 engines the same applies except that we prefer to fit the trumpets for you, costs are an extra £40 but gains can be greater.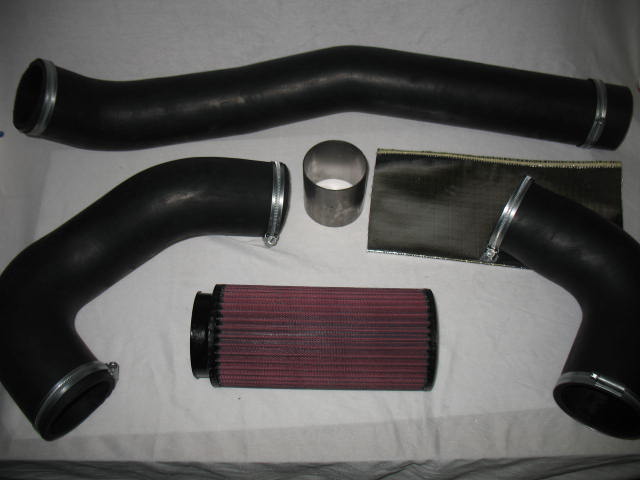 How Superflare trumpets work:
These are tapered from 38mm bore at the base up to around 48mm at the top, you are simply squeezing more air in , as the gas travels down the trumpet it speeds up, at just the right point, it  helps feed air past the 90 degree bends within the inlet manifold. The trumpets are also 10mm shorter than standard 4.0L to give more clearance to plenum top, they are infact 15mm longer than the trumpets TVR fitted to the 4.3 and 4.5 engines.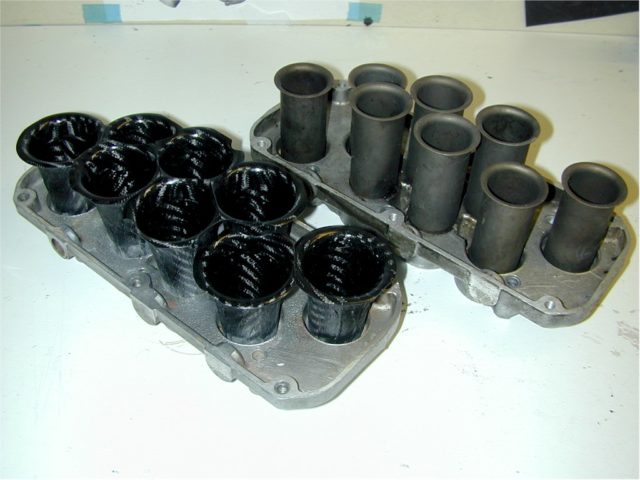 Image of Superflare trumpets beside standard, you can imagine the increased air-flow potential
 The alternative option is to fit 45mm Alloy trumpets although these are cheaper as units, they do require lots of machining to the trumpet base and porting to the inlet manifold, with higher spec engines starting with standard inlet manifold, these are the way to go, cost is £390 but an extra 4 hrs fitting time must be taken into account.  Not much point on a 500 as they already have 44mm intake diameter.
For reference, from TVR
All non 500 engines have 38mm bore inlet manifolds, the 4.3 & 4.5 have enlarged head ports and manifolds are port matched but only at the point where they meet the cylinder heads. They also in most cases have larger valves. All of these engines use standard 38mm trumpets.
500 engines have a ported inlet manifold, big valve extreme ported heads, they also use a TVR special trumpet base with slightly tapered steel tubes with no bellmouth .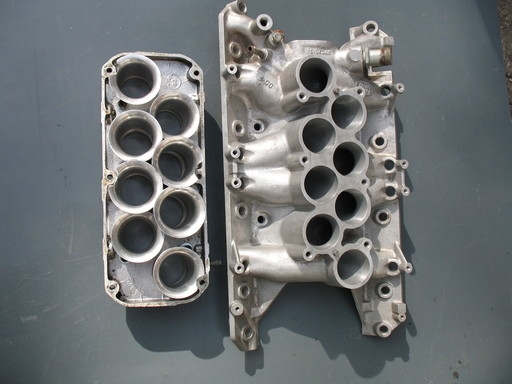 Image of alloy 45mm trumpet set with ported manifolds.
Will the fuelling cope with these upgrades:
In a word yes, provided the injectors are in good order ,  having injectors checked / cleaned is a useful exercise.
Next stage
ECU software, meter & plenum upgrades:
These upgrades will relieve good gains and I regard these as "the next stage" after hoses etc.
The Tornado chip is a very useful tool on its own, as they can be programmed very precisely on a rolling road,.
Now when you fit a Tornado chip with a larger aftermarket meter, because the meter doesn't run out of range, or in other words reach maximum voltage at around 4000 rpm like the standard meter does, it almost maps itself, by this I mean that the chip can rely on the meter for a more precise indication of air-flow.
The tornado kits normally consist of both trumpets and plenum hose along with enlarged plenum throat: 71mm (standard is 65mm) bosch large bore meter and chip
These full kits start at £975 +vat and give from around 30 lb ft we have seen more.
Plenum enlargement :
Surprisingly enlarging the plenum to 71mm will only increase power by a very small margin, they do have some merit in offering better throttle response , but unless  you are fitting a large meter and modifying the fuelling there isn't much point.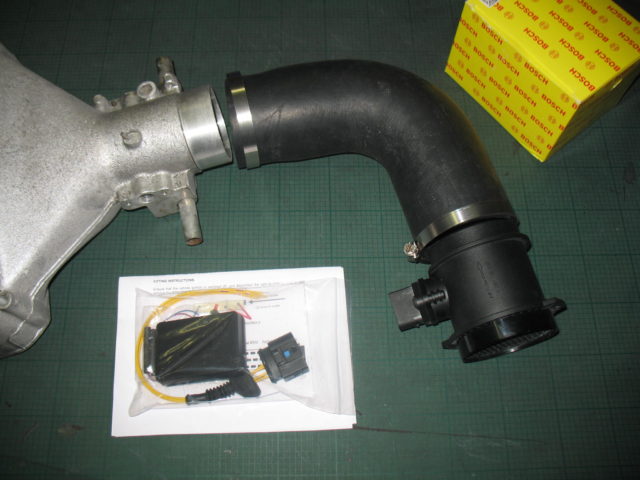 Image of Tornado kit, with enlarged plenum, bosch meter and ECU software.
Multi throttle plenum upgrades.
I regard these as the icing on the cake for powerful motors, fabulous looks, terrific throttle response and better overall breathing. These are suited for 300+ bhp engines, not much point on anything less