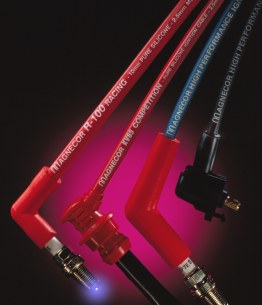 Magnecor Race leads, both Magnecor KV85 Competition (8.5mm) and R-100 Racing (10mm) Ignition Cables, are used extensively throughout the world by leading racers and performance minded
street vehicle owners to maximize the efficiency of their vehicle's ignition system. Magnecor Race leads are the only ignition leads that can carry the full output of racing ignition systems while providing superior EMI suppression for electronically managed engines and superior heat resistance.
Magnecor Race leads are used on many serious race engines, such as current engines used in the USA in NASCAR, Winston/Nationwide/Sprint Cup, Grand National and Super Truck series, SCCA (including successful factory vehicles and other series winners), IMSA, NHRA etc. Magnecor Race leads have been successfully run on many 5,000+HP Top Fuel engines. However, unlike all other performance wires, Magnecor Race leads can be used to improve ANY street engine ignition performance — because they provide EMI suppression!
We supply Magnecor leads for all types of car from 2CV to Ferrari and they are our choice for your TVR!
TVR Ignition lead pricing delivery usually available next day if ordered by 4pm:
We also supply general ignition components for other makes and models such as Marcos, Morgan, Land Rover
See our range of ignition products for TVR and other vehicles as well as other ignition accessories we have from stock
Bosch coils, NGK spark plugs, Lucas distributor caps and Rotor arms.